National Weather Service – SkyWarn
>>> What is Severe Weather? see below – Please Report It <<<
>>> Not a Trained Spotter, Report Severe Weather Using This Link <<<
| | |
| --- | --- |
| | The Bald Eagle Repeater Assoc. actively participates in SKYWARN.  SKYWARN is a program of the United States' National Weather Service (NWS). Its mission is to collect reports of localized severe weather. These reports are used to aid forecasters in issuing and verifying severe weather watches and warnings and to improve the forecasting and warning processes and the tools used to collect meteorological data. It consists of a network of severe storm spotters that observe weather conditions and make reports of severe weather to their local NWS offices. These spotters are trained by personnel from the local NWS offices each spring in advance of the coming severe weather season. |
Every Thursday at 7:30pm a Skywarn test net is held on:
KB3DXU 145.33 PL167.9 Primary
KB3HLL 147.09 PL167.9 Secondary
You do not have to be trained. Please feel free to check in.
---
SkyWarn Training is available Wed, April 19 14:00-16:00 TSP  &  Wed, April 19 18:00-20:00 County Farm
You must register>>>  Skywarn Spotter Details 4-19-23 14:00(a)
or   
                                  Skywarn Spotter Details 4-19-23 18:00(b)
---
Questions – Bob Brown Lycoming County EC (Emergency Coordinator)
---
---
Net Control Scripts for:
Lycoming County SkyWarn training net
Lycoming County SkyWarn – Level 1 or 2 Activation
---
---
---


We ask our SkyWarn™ Spotters to contact our office using the 800 number printed on your Skywarn™ Spotter ID card when they experience any of the events listed below.
---
NWS State College Schedule of SkyWarn Spotter Training Sessions
Pennsylvania NWS Contacts – PA county's in each NWS office, contact information and map.
---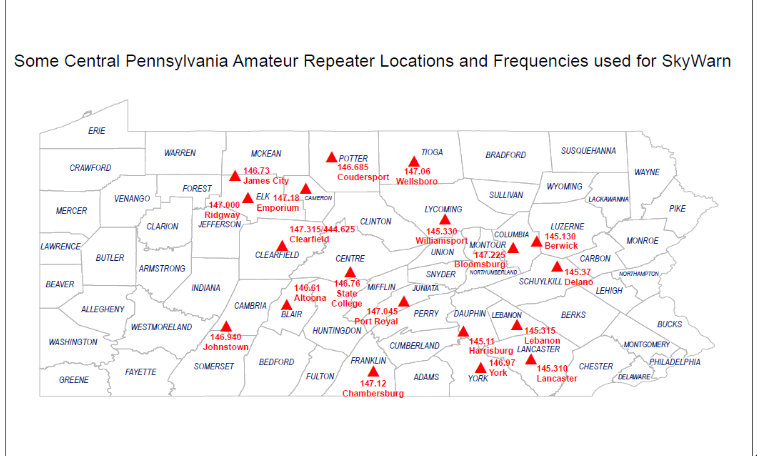 ---
Please Report any of the following events:
Cold-Season (Winter) criteria:
Snowfall

When (new) snow accumulation reaches 3 inches

When (new) snow accumulation reaches 6 inches

Give a final report/total at the end of the storm (water equivalent if possible)

1 inch per hour or greater accumulation rates

Ice

Any occurrence, or accumulation, of freezing rain

Accumulation of 1/4″ or more of ice on trees/wires

General Winter Reports

When forecast winter precipitation differs significantly from observed (i.e. snowing with no snow in forecast, sleet…when only snow is forecast…)

Any other significant weather occurrence/oddity (i.e. flooding due to snow melt/ice jam, damage from strong winds not associated with a thunderstorm)
Warm-season (Thunderstorms) criteria:
Tornadoes or funnel clouds (be very wary of look-a-likes; watch for rotation)
Wall clouds, especially if they are rotating
Hail (Please be specific with regard to size)

Other sizes/descriptions to use for hail:

* Pea 0.25 inch
* Penny 0.75 inch
* Nickel 0.88 inch
* Quarter 1.00 inch (15/16″)
* Half dollar 1.25 inch
* Walnut/Ping Pong 1.50 inch
* Golf ball 1.75 inch
* Lime 2.00 inches
* Tennis Ball 2.50 inches
* Baseball 2.75 inches
* Large Apple 3.00 inches
* 

Softball

 4.00 inches
* Grapefruit 4.50 inches

Quarter-Size (1″) and larger is severe!

Wind Gusts (40 mph or greater; specify whether estimated or recorded)

large branches downed (specify diameter of branch)

Trees/power lines downed

Structural damage to buildings (roof, windows, etc.)

Rainfall

1 inch or greater in an hour (NOT a 1″/hr. rate for 10 minutes)

2 inches or greater storm total

Flooding

Streams/Rivers — also, when nearing bankfull

Street (when more than the usual poor drainage puddles)
---
---